Alaska is beautiful and exciting twelve months of the year. This is fortunate, because honeymoons and romantic getaways are often when you have time for them, rather than at the peak of the summer visitor season. As you might imagine, most of our visitors come in the summer months, primarily from Memorial Day to Labor Day. The obvious advantage of this time of year is the warm days with never-ending daylight. However, the shoulder seasons are also spectacular, with great fall colors, warm, sunny days and smaller crowds. We also have quite a few winter guests, and in fact, winter is an excellent time to come to Alaska for a honeymoon. Small inns and cabins are even more quiet and private, the scenery is spectacular, and the activities are exciting. Late winter and spring is the best time for northern lights viewing.
For more information about winter vacation and honeymoon packages in Alaska, visit our sister website, alaska-winter.com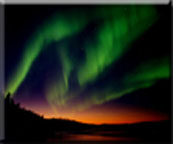 March is the time of the Iditarod Sled Dog Race, and this is an excellent time to come to Alaska to combine spectacular, romantic destinations with great activities and lots of fun. Many of our guests combine the Iditarod with a northern lights viewing trip.
Guests in April to early May can enjoy both whale watching trips along the coast of Kenai Fjords National Park, and wildlife viewing in Denali National Park without the usual vehicle restrictions. Other great activities, such as flightseeing at Mt. McKinley are also available at this time of year.
World Class downhill and cross country skiing is available throughout the winter, and we can combine skiing with dog sledding, snowmobiling, flightseeing, horse-drawn sleigh rides and so much more.
Regardless of the time of year, our packages always include wonderful romantic lodging with lots of privacy, spectacular scenery and great on-site and off-site amenities, such as hot tubs, decks, barbeques, and easy access to great local dining and activities.